Geodesy Transform
Professional solution for geospatial data engineers to transform coordinates and calibrate coordinate system parameters. Supports geocentric, spherical, planar coordinate systems, various types of projections, geoid models.
Performs horizontal and vertical correction, recalculation of normal heights into geodetic and vice versa.
Converts your real time location to any supported coordinate system.
Supports Datum (geodetic, geocentric), Grid (Transverse Mercator, Lambert Conformal Conic) and Local coordinate system transformation and calibration.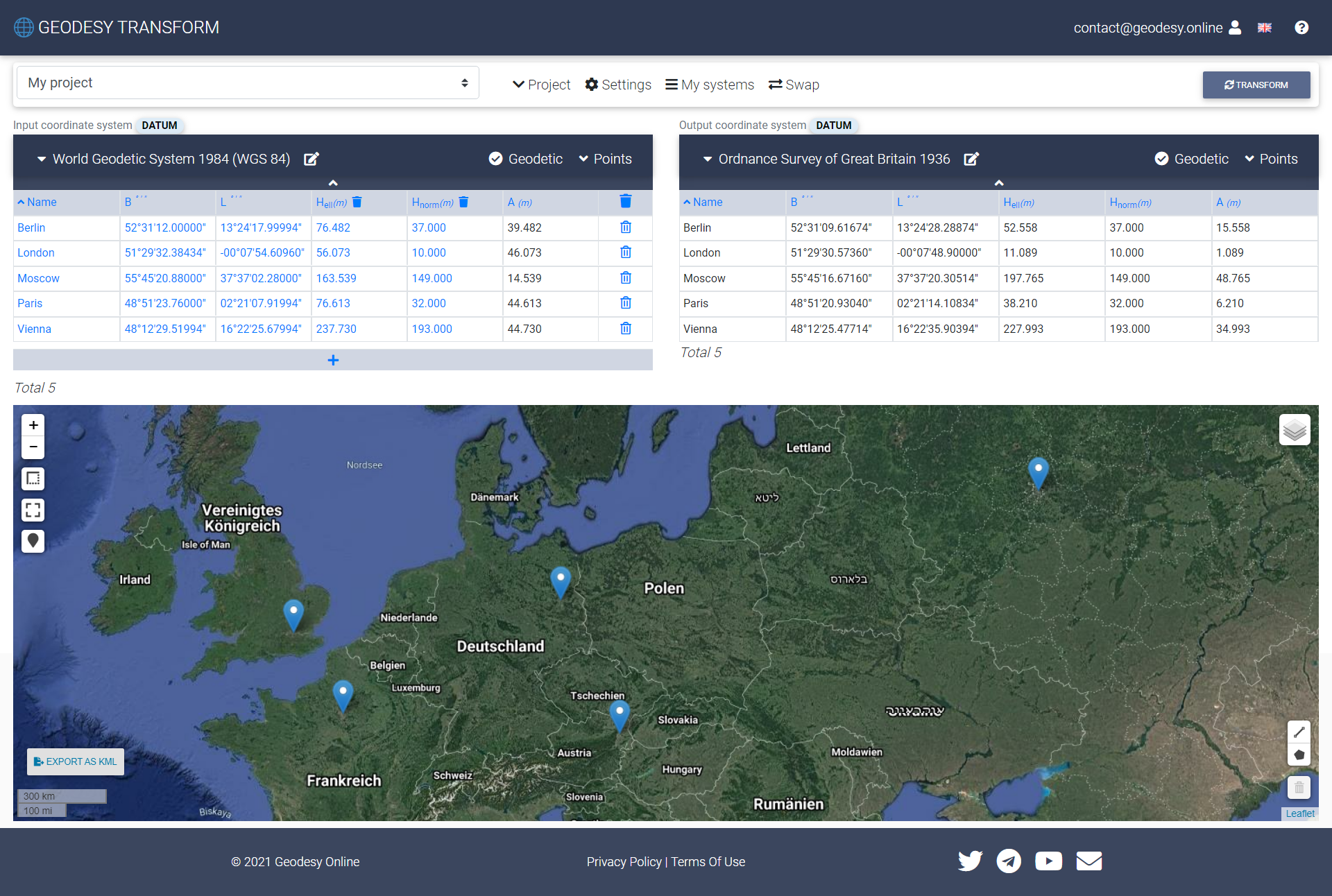 Features:
Converting points from one coordinate system to another
Geocentric, spherical, planar coordinate systems support
Transverse Mercator and Lambert Conformal Conic support
Popular coordinate systems database
Creating your own coordinate systems
Copying existing coordinate systems
Manual input of system parameters
Support for geoid models EGM 96, EGM 2008
Geoid anomalies calculation
Normal (orthometric) heights calculation to geodetic and vice versa
Support for various units of measure
Import / export of projects
Hidden parameters
Plan and height corrections
Calibration geocentric, geodetic and planar coordinate systems
Points import / export
Manual input of coordinates
Displaying points on the map (OpenStreetMap)
Interactive point creation by clicking on the map
Scatter plot for displaying points of local coordinate systems
Converting your location to any supported coordinate systems
Import of coordinate systems from Mapinfo format (Transverse Mercator, Lambert)
SRTM elevation data
EPSG registry
Let us know what other functions you need?
Supported transformation combinations:
Datum to Datum
Datum to Transverse Mercator
Datum to Lambert Conformal Conic
Transverse Mercator to Datum
Transverse Mercator to Lambert Conformal Conic
Lambert Conformal Conic to Datum
Lambert Conformal Conic to Transverse Mercator
Local to Local
Supported calibration combinations:
Datum with Datum
Datum with Transverse Mercator
Datum with Lambert Conformal Conic
Transverse Mercator with Datum
Transverse Mercator with Local
Transverse Mercator with Lambert Conformal Conic
Lambert Conformal Conic with Datum
Lambert Conformal Conic to Transverse Mercator
Lambert Conformal Conic with Local
Local with Local
Local with Transverse Mercator
Local with Lambert Conformal Conic